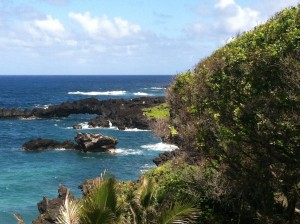 As we all can agree, we each have our good days and bad days.  On the not so good days, I have found my "walking poles" to be very helpful.  My husband was online and found these "poles" that are used for hiking, and thought they would be beneficial for me when my balance was off.  He was so right . . . they are a tremendous help!
You can find them at Exerstrider, as well as Academy and other similar places.
—————
On another note, my very dear Aunt Vicky sent me an email one day asking me if I was taking Vitamin D3 as a vitamin supplement.   She suggested that I check with Dr. Blum about it as she had been reading up on it as hers was very low.  She found that a lot of illnesses, like MS, can be helped by taking Vitamin D3.  Because of her suggestion, I am now taking Vitamin D3 every day.
—————
When I was diagnosed with MS, I found that the symptoms of the MS were 10x worse during my menstrual cycle.  My lovely cousin, Katrina, told me about a procedure she had done called a hysteroscopy (known as endometrial ablation) that stopped her from having any more periods.  I talked with Dr. McWilliams about it, and we both agreed that my symptoms were definitely hormonal related.  After confirming with Dr. McWilliams that Ron and I were done having babies, he agreed that I should have a hysteroscopy.  It was the best thing I could have done.  I had the procedure done in 2010, and have not had a period since, which has made me feel so much better.  Just FYI, though, there is no guaranty that you will never have another period again after having this done.  If you do have a period, the symptoms will be a lot less, which makes it so worth it.  I also learned that not all gynecologists do this procedure.  As of 2010, Dr. McWilliams is one of the few that does the procedure in Houston.  Another important note is it is very important that you still use a form of birth control after having this procedure as it is imperative that you not get pregnant after having this done.
—————
After serious discussion, my husband and I agreed that we should apply for our 15-year old son to get his hardship license.  The license would allow for Hunter to go to school early when needed for tutoring and for staying after school for ROTC.  It would also allow him to run errands for me if I was not able to.  I don't know about you, but when the weather is horribly hot or horribly cold, I have a hard time moving around.  So, we applied for a hardship license and we were denied, even though we met all the requirements.  After numerous conversations with the DPS office, we decided to appeal the decision.  DPS ignored our appeal, so Ron found an attorney to file suit against the DPS office in the State of Texas.  The attorney had never done anything like this before, so it was a learning experience for all of us.  Initially, the DPS office ignored the citation of the Petition, so we set a hearing date to have the facts in our Petition heard, forcing them to respond.  We went to Court, and the Judge ruled on our behalf.  The Judge gave Hunter an Order allowing him to drive during certain times of the day.  He told Hunter that he needed to keep the Order in his truck at all times in case he was ever pulled over he can show it to the officer.  If Hunter is found to be in violation of the Order, he can be arrested and taken to juvy.  Once he turns 16, he can apply for a license.  Like all teenagers, he's counting down the days until he's 16.
The attorney who helped us is a very good man, and he is a very good attorney.  His name and number are as follows:
Dominic J. Merino Attorney at Law 1101 West South Street Alvin, TX  77511                                                                                                                             (281) 585-5654  
—————
I hope you find the above information useful in your journey.  If you have information that you feel would be helpful to others, please share it with us.  We would love to hear from you!
Kelly